BISMARCK, N.D. — U.S. Attorney Tim Purdon told the crowd at the Tribal Consultation Conference that his motivation for becoming the U.S. attorney for North Dakota was to work in Indian Country. The first time he met Attorney General Eric Holder after his appointment to the post, Purdon told his new boss of the public safety struggles on North Dakota's reservations.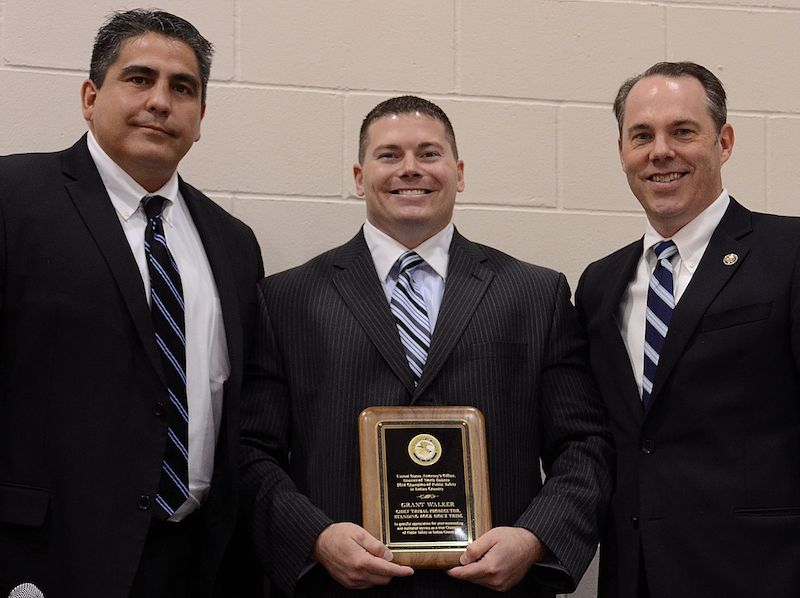 Holder responded it was unacceptable that one in three Native American girls and women will be sexually assaulted in her lifetime. And Purdon knew Holder "got it." Later, during a visit to the Pine Ridge reservation in South Dakota, Holder laid flowers at Wounded Knee, a memorial former Attorney General Robert F. Kennedy had said more than four decades earlier he wished he had made. And Purdon again saw Holder's commitment to Indian Country.
"You have the head and the heart for Indian Country," Purdon told Holder on Thursday at United Tribes Technical College, likening the attorney general to the assistant U.S. attorneys in Purdon's office who prosecute cases from the state's reservations.
Holder then took the podium, the most prominent speaker in the four-year history of the event that brings together tribal, local, state and federal officials to talk about public safety challenges facing the state's tribes.
The attorney general lauded the efforts of Purdon's office in working in Indian Country. He cited specific cases in North Dakota, including a prominent murder case and an ongoing drug investigation. Holder also acknowledged the failings of the federal government over the years, the broken treaties and promises. But he said the future is bright.
"We must both acknowledge and confront the lingering impacts — and the deep scars — inflicted by centuries of violence and deprivation," he said.
Holder said working in Indian Country has been a priority for him, as well as for President Barack Obama, who plans to visit Standing Rock next week. And he said they're working to make sure that legacy extends to future administrations.
"We've secured legislation making the Office of Tribal Justice a permanent component of the Department (of Justice), and worked to institutionalize our commitment to cooperation so that future administrations can build on the progress that we make today," he said.
Holder talked about the Obama administration's work so far in Indian Country as well as new initiatives to help youth on reservations affected by violence, to get lawyers versed in Indian law and to empower future generations of leaders.
After his speech, Phil Baird, the interim president at UTTC, presented Holder with a ceremonial blanket.
While Holder was the big draw for the conference, his talk was not the only thing on the agenda. Other speakers included Baird, Purdon, Allison Randall, the chief of staff for the Office of Violence Against Women, and Mario Redlegs, special agent in charge of the Bureau of Indian Affairs Office of Justice Services.
Attorneys in Purdon's office gave out the first Champions of Public Safety in Indian Country awards to officials working on North Dakota reservations.
Assistant U.S. Attorney Gary Delorme presented the award to Grant Walker, the former chief tribal prosecutor for the Standing Rock Sioux tribe. Delorme is assigned to prosecute cases off the Standing Rock reservation. Walker worked for the tribe from 2009 until April, and Delorme said Walker was an advocate for justice for the people of Standing Rock.
Walker did not hesitate to advocate to leave cases in tribal court rather than put them in federal court where sentences tend to be longer, when a defendant had little or no criminal history. Delorme said there are dozens of young people on the reservation who were granted second chances through Walker's work to keep the tribe involved in the process, and many of them may not even know that they would have ended up in federal prison without Walker.
Walker said he was honored to receive the award. Working on the reservation was a rewarding experience, and he urged tribes to continue strengthening their tribal court systems.
Assistant U.S. Attorney Rick Volk presented awards to two Three Affiliated Tribes Police Department officers: Detective Angela Cummings and Sgt. Dawn White. He spoke about Cummings' passion for her work and compassion for the people she works with — both victims and suspects. She has helped to bring people to justice, he said.
Volk called White the "eyes and ears of the reservation," and said her knowledge of people and cases on the Fort Berthold reservation is "astounding."
Cummings and White said they work to protect the reservation because it is their home.
"I sacrifice because this is the only place I'm going to be a cop," White said. "I want to be in the front lines to protect, because that was my vow: to protect my community."
"This is my home," Cummings said. "My biggest reward is to know my kids are going to live in a safe world."
After Holder's speech, Volk led a panel discussion on the U.S. attorney's office's multidisciplinary team approach to reservations. Each attorney assigned to a reservation organizes regular meetings with other officials on the respective reservations to go over case progress and collaborate on issues.
"What we want to know is what's going on on the reservation and how can we help," Volk said.
The meetings involve victim advocates, tribal law enforcement and prosecutors, child protection systems, school officials, children's advocacy centers and others. Assistant U.S. Attorney Brandi Sasse-Russell, who prosecutes cases off of the Turtle Mountain reservation, said all participants sign confidentiality agreements.
Volk said the approach helped in a 2-year-long effort to prosecute a man for human trafficking, sexual abuse and drug trafficking on the Fort Berthold reservation.
"You need to have a team that is able to connect with people if you're going to get a case like that to trial," he said.
Reach Jenny Michael at 701-250-8225 or jenny.michael@bismarcktribune.com.